ABOUT COERVER
Coerver Coaching is a global football coaching program inspired by the teachings of Wiel
Coerver and created in 1984 by Alfred Galustian and Chelsea great, Charlie Cooke.
A football skills teaching method suited for all ages but especially
for players aged 4 - 16 years old of all abilities and their parents, coaches and teachers
A Method that focuses on Individual skills development and small group play
Develop skilled, confident and creative players
Make the game fun to practice and play
Teach good sportsmanship and respect for all
CURRICULUM
COERVER COACHING CURRICULUM is represented by The Pyramid of Player Development
which consists of 6 building blocks.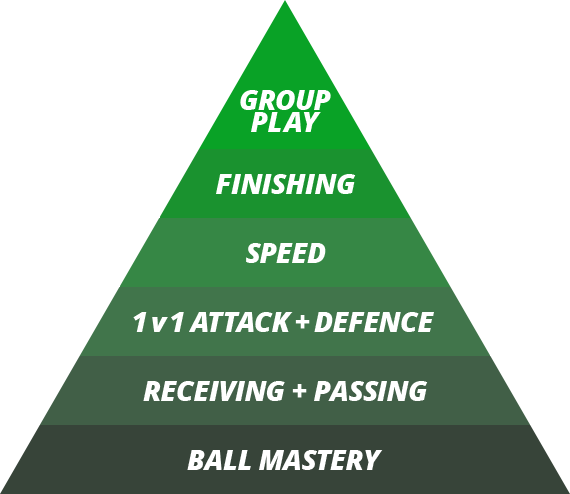 GROUP PLAY

Improve skills in small groups. Combination training.

FINISHING

Improve goal scoring skills.
Develop intention to score and the timing of shots.

SPEED

Improve the speed of thinking and action.
Train to improve acceleration, reaction speed, and decision making.

1v1 ATTACK + DEFENCE

Train to improve 1v1 skills to beat defenders or protect the ball that include various feints and turns.

RECEIVING + PASSING

Improve the skills to receive and pass the ball.
Train the timing of runs to receive the ball in the game.

BALL MASTERY

The foundation of every player's development and becomes essential for the progress through the pyramid
PRIVATE LESSON
Coerver Coaching offers "Private Lessons" that train 1v1, receiving and passing ,
and goalkeeper specific techniques through an individual original program.

In this program, the coach in charge creates individual drills based on the issues and characteristics of the players,
and provides training and feedback to encourage the players to develop their soccer techniques.

In addition, Coerver Coaching is a global soccer technical teaching method that has been introduced in more than 30 countries around the world,
and it is possible to train using the same curriculum in any country.

Coerver Coaching Japan offers this program in Japanese, English, Chinese and Korean. Japanese staff who can speak English,
Chinese and Korean will be in charge. Please select your preferred language when you apply.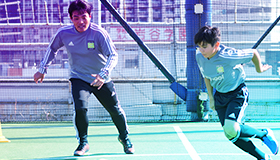 Thorough practice with the program to develop individual skills
We create and teach individual sessions according to your needs, such as 1v1 technique, pass & receive, goal
keeper specific skills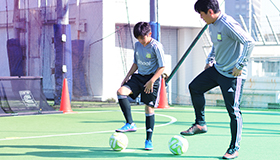 It can be held at your convenient time and venue
If you can secure a venue, we can train near your home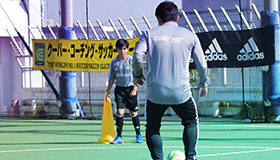 Detailed training with one to four player(s) or less
Less than four players. Secure more opportunities for individual advice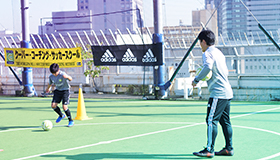 Customize the program according to your request
We carry out the session depending on player's age and level, individual features
and improvement points

MEETING WITH COACH
We will ask your needs, such as issues
and areas you want to improve

LESSON
Create your own training.
Date

We can arrange the schedule
Venue

Please prepare a venue where you have permission to use and play with a ball.
The venue fee will be incurred by the customer.

Please let us know if you would like to use the facility where we run our schools.
Age

5 years old ~ 15 years old
If you want to take the Private lesson as a group (2~4players) ,
please make a group of the same grade as close as possible.
Coach

The school master who can teach in English and the coach equivalent to the school master will be in charge.
Please contact us if you have any requests.
Notes

For injuries, accidents, etc., we will take first aid, but we cannot take any responsibility.
Cancellations other than rain and bad weather are not accepted.

If you belong to a team, please request within the range that does not affect the team activities.
Fee

Time
Players
Fee per Person(include tax)
Coerver students*
others
60min
1player
¥11,000
¥16,500
2players
¥8,250
¥11,000
3players
¥7,332
¥9,166
4players
¥6,875
¥8,250

*"Coerver Students" means players who belong to a Coerver Coaching Soccer School in Japan.
What is included in the cost

Coaching Fee and Program Creation Cost
What is not included and must be incurred by the customer

Facility fee and transportation costs of the Coach
APPLICATION
please click the button below and enter the required information in the input form.