Gerard Houllier interview Paris March 11th 2013
2013.04.10

On March 11th 2013,
Co-founder of coerver coaching; Alfred Galustian have interviewed Mr.Gerard Houllier who has brilliant career as manager and coach, and now working for Red Bull football as Global Sporting Director.
---
Clubs Managed and Coached
• RC Lens
• Paris Saint-Germain
• Liverpool, with whom he won the FA Cup, League Cup and UEFA Cup in 2001.
• Olympique Lyonnais where he won two French titles
• Aston Villa
• Red Bull : Head of Global Soccer
International Career
•French national team coach between 1992 and 1993.
•Technical Director France 1988 to 1998
•France World Cup Win in 1998
•Technical Director France 2008-2010
•Member of UEFA's and FIFA's Technical Committee for 2006 and 2010 World Cup finals
---
AG: As always, good seeing you. What are you doing now?
GH: Currently I am Global Sporting Director for Red Bull Football: We have 5 professional football units:
Austrian side FC Red Bull Salzburg, Germany's RB Leipzig , New York Red Bulls from the US A, Red Bull Brasil and the Red Bull Ghana academies.
AG: it's almost 20 years since you invited me to come to the Clairefontaine National Training Centre. Please go through the background that preceded this invitation
GH: As a professional coach and then as technical director of the French Federation, I had heard about Wiel Coerver and his methods, but to be frank, myself and many of my staff were a little sceptical. We agreed that focus on technical teaching was important, but from what we saw in the work, at that time, many of us felt it did not relate or move on to game conditions quickly enough. When I met you and you explained to me your ideas on technical teaching, I was keen to see for myself
AG: I remember well the first course I did for you at Clairfointaine in 1994; to tell you the truth I really felt nervous because there were so many high profile coaches.
GH: In fact if you recall, the first course you did was for our 15 National Team Coaches; This included Aime Jacquet, the National Team Coach and coaches from every French National Team men and women, so no wonder you were nervous.
I was honest with you at the beginning, I left it to our National Team Coaches judgement, whether they liked what you presented or not. As you know they all came back to me, after your session, saying they were convinced that this teaching could be great importance to us in France. I have to tell you that one of your biggest supporter was Aime Jacquet, who went on to win the World Cup.
The second course you did for us in the early days of following season, was for the 120 National and Regional Coaching Directors of France. This course led to the many invitations you received to teach players and coaches at top pro clubs and our regional training centers.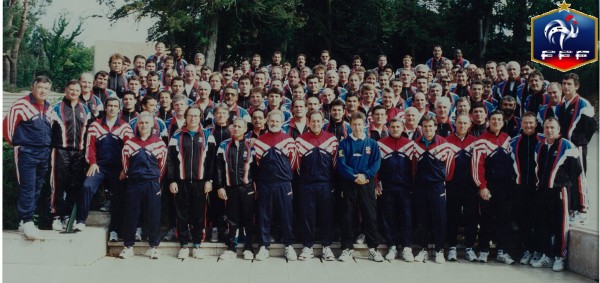 AG; You have jogged my memory, yes those first two courses were crucial, I remember that I presented Ideas on Technical Teaching to Elite Players and how I thought Coerver had evolved. Do you remember the feedback that you got on that?
GH: Yes, that day you convinced even the most sceptical of coaches, that Coerver was about teaching effective use of skills and not just skill for its own sake. Many of our coaches had seen Wiel Coerver work or had his videos; you showed us the evolution of the method and how it had changed and moved on.
AG: I remember shortly after these initial courses coming back to Clairefointiane at your request to video some of our work for your Official Library
GH: Yes and to this date almost 20 years later, the videos and work you did are still used as a resource for our coaches all over France.
AG: I was lucky to continue working with you for over 17 years all over France
GH: As technical director I received reports of all your work. I recall especially those at Auxerre, Marseilles, Lyon, Bordeaux and Paris.I really feel your effort and work in France over so many years, has helped us produce so many creative players.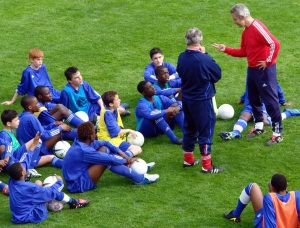 AG:I have been lucky enough to work at many Federations and Top Clubs around the World, and in my opinion, the French Youth Development System under you, is the best that I have seen.
GH: Thank you, we worked hard and Youth Development was a priority for us. Winning the World Cup validated our ideas and new orientation in our work.